InterAct Seasons 1988 - 2000
1999/2000 Season
Return to Morality by Jamie Pachino, directed by Seth Rozin
What happens when your satire is taken seriously? This smart, new comedy follows the story of a liberal author whose satiric novel about America's decaying morality is published as a work of non-fiction. He is immediately embraced by the country's far right and finds himself at the center of a national media frenzy. Winner of nine national playwriting awards and festivals!
Between Men and Cattle by Richard Kalinoski, directed by Mark Hallen
A day like any other at a diner in 1970…A gifted African American boy is made indelibly aware of his color by an ambitious young reporter. 29 years later, old tensions resurface and new flames ignite when they meet for a second interview. From the author of BEAST ON THE MOON comes this subtle yet powerful play about coming to terms with one's identity, and the the burden of responsibility that role models bear.
Drink Me by Mary Fengar Gail, directed by Whit MacLaughlin
Thousand of vagrant men are disappearing from the streets of London, and suspicion falls on a trio of modern day witches. A deliciously perverse British mystery with a pinch of science fiction, and a dash of drawing-room comedy, DRINK ME offers up some surprising solutions to the world's overpopulation problem. An audience favorite in the 1999 Showcase of New Plays! Karen Krastel, Rebecca Hatcher Lisak, Mary McCool, Tim ,oyer, Catharine K. Slusar and Maureen Torsney-Weir.
Featuring monologues by B.J. Burton, Mark Cofta, Jon Dorf, Elizabeth Emmons, David Federman, Eli Finkelman & Michael Hollinger
Directed by Deborah Block, Joe Canuso, Mark Cofta, Serena Halley, Adrienne Lamb, Seth Rozin & Maureen Torsney-Weir
Nearly 70 writers from the Philadelphia area submitted for consideration for this evening of monologues about the new millennium. The 14 monologues performed demonstrate the variety and depth of writing in our region. But more than that, they make a good evening of theatre. Moving, funny, insightful, poetic, troubling and inspiring, these monologues represent a diverse array of new voices and new ideas. They also suggest there is a vein of riches in our region.
1998/1999 Season
Mastergate by Larry Gelbart, directed by Robert Smythe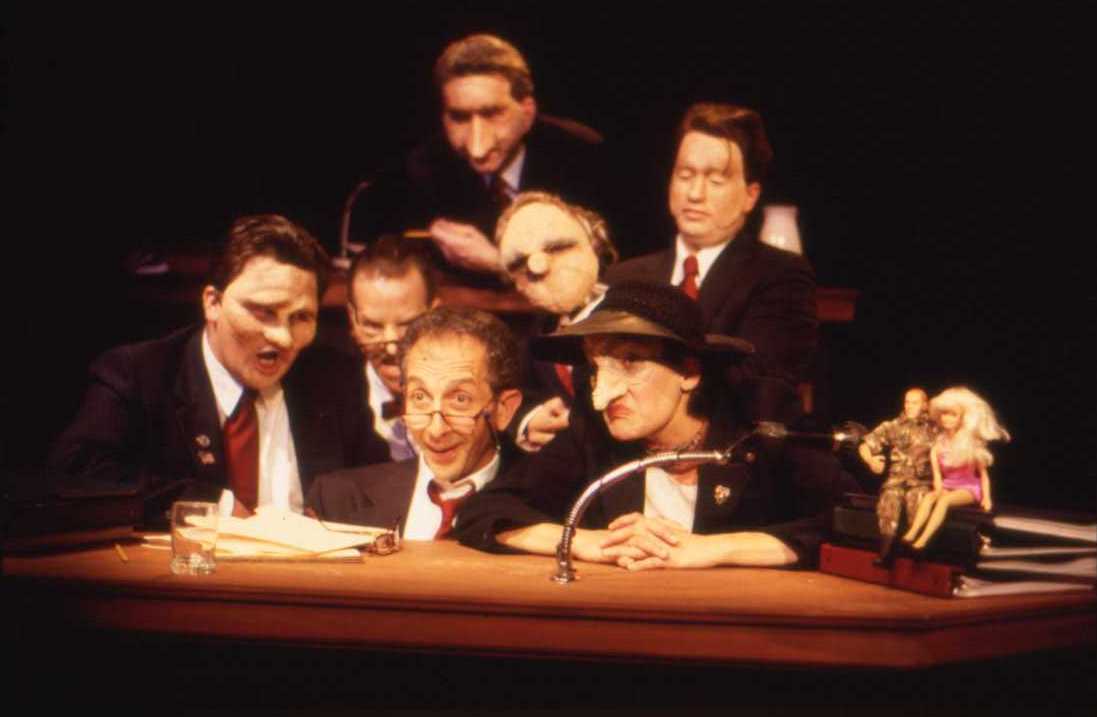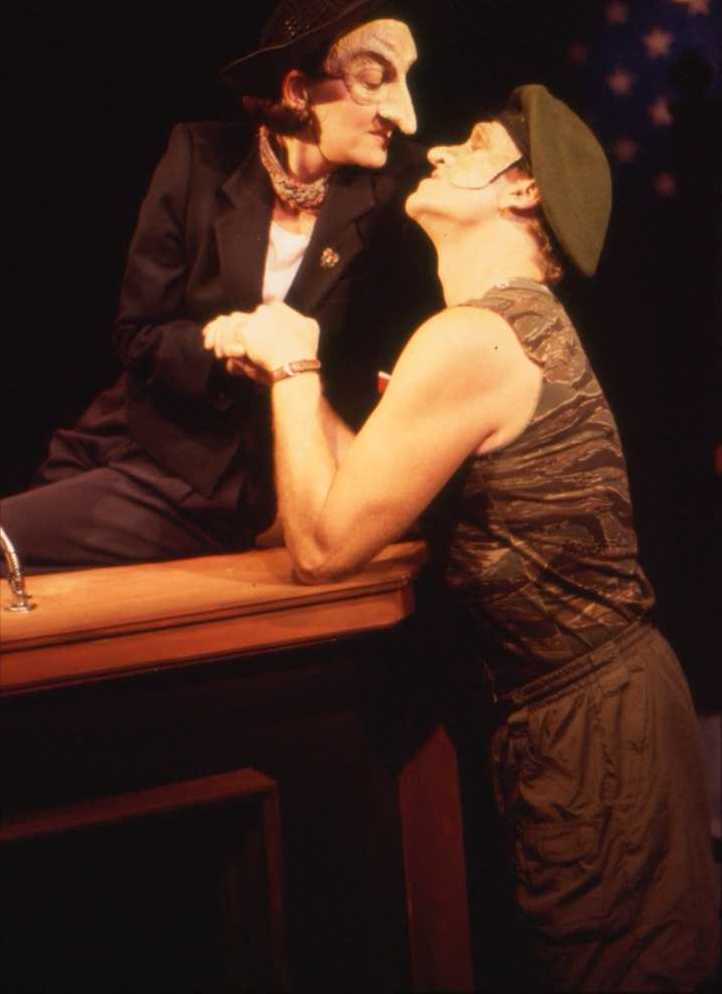 From the creator of M*A*S*H and A Funny Thing Happened On The Way To The Forum comes this clever satire of Senate hearings, complete with pompously posturing politicians, protesting lawyers, squirming Secret Service agents, and sensationalizing reporters. The circus-like proceedings, will be played by a combination of Philadelphia's funniest actors and a handful of hilarious puppets. Designed and directed by three-time Barrymore Award-winner and Guggenheim Fellow Robert Smythe.
Bee-Luther-Hatchee by Thomas Gibbons, directed by Seth Rozin
A successful African American editor tracks down the author of a bestselling autobiography and is startled and enraged when she discovers the author's true identity. Following tremendous critical acclaim of Black Russian and 6221, Gibbons offers his most dynamic and provocative play yet!
Lebensraum by Israel Horovitz, directed by Seth Rozin
It is the beginning of the 21st century. The new German chancellor invites six million Jews from around the world to make Germany their home as a gesture of reconciliation. What follows is a fast-paced, futuristic docudrama in which three actors play over eighty roles, and Horovitz takes every point of view. A provocative vaudeville by one of America's most celebrated writers.
1997/1998 Season
Seascape by Edward Albee, directed by Seth Rozin
Albee's most inventive play centers around Nancy and Charlie, a comfortable middle-aged couple pondering their future on a lazy afternoon at a secluded New England beach. When confronted by a pair of sea creatures who have evolves out of the ocean, Nancy and Charlie are drawn into a hilarious and life-altering exploration of their deepest fears and prejudices. An intelligent, witty, deeply human look at the unstoppable momentum of evolution and the ways we insulate ourselves from others who are "different."
Aunt Dan and Lemon by Wallace Shawn, directed by Seth Rozin
A provocative play about the banality of evil from one of America's most daring playwrights. Lemon is an impressionable young girl who grows up enamored with the radical ideas and hedonistic lifestyle of her dynamic childhood inspiration "Aunt" Dan. As we watch Lemon absorb Aunt Dan's insidious logic, we see her slowly come to internalize the most dangerous thoughts. Through savage humor and brilliantly twisted thinking, Wallace Shawn takes us on a fascinating and disquieting journey into the core of human nature.
Under Yelena by Buffy Sedlachek, directed by Seth Rozin
Under Yelena, a beautiful and moving drama by award-winning playwright Buffy Sedlachek, follows two Soviet scientists who risk their lives to discover the truth about Chernobyl. Amid the rubble of failed technology and a country in political chaos, these two heroic individuals develop a unique friendship and embrace their shared heritage.
1996/1997 Season
Black Russian by Thomas Gibbons, directed by Seth Rozin
The remarkable story of a father and son, each seeking a new life in a land of opportunity. Black Russian is one of the first American plays to explore the fall of communism. It takes us on a dramatic journey through 20th Century history through a time when such cultural luminaries as Paul Robeson and Langston Hughes became enchanted with the communist vision of the future. Black Russian is a tale of two extraordinary individuals–fascinating history, full of humor and humanity.
Three in the Back, Two in the Head by Jason Sherman, directed by Tim Moyer
Marisol by Jose Rivera, directed by Seth Rozin
A futuristic fantasy about a young woman's search for love and salvation. Marisol Perez is propelled through an absurd nightmare in the streets of New York. As gods and angels wage an apocalyptic battle in the sky, Marisol encounters other innocent, lost souls who have been corrupted by a crumbling world and who cling to their tiny fragments of humanity. Marisol is a frighteningly funny vision of the end of the present age and the beginning of a new order.
1995/1996 Season
Lonely Planet by Steven Dietz, directed by Seth Rozin
A compassionate comedy about friendship and fear in the age of AIDS.
Pretty Fire by Charlayne Woodard, performed by Cathy Simpson

An evening of five unforgettable stories about an African american girl's spiritual and cultural awakening. An empty stage comes to life with an incredible world of characters in a tour-de-force performance by award-winning actress Cathy Simpson.
1994/1995 Season
The Disappeared by Craig Eisendrath
The compelling story of Ana and Ricardo Castillo, an upper-class Central American couple who risk their lives when they enlist in their country's revolution. Their cousin Jorge is the chief of police. Their young friend Carlos is a leader in the rebel camp. Upon the arrival of two American intruders – a "witness" defending human rights and a representative of the CIA – conflicts intensify. Will Ana and Ricardo's fight for justice add them to the list of the disappeared? Ideals, family ties, and politics are intertwined in this absorbing drama of commitment and responsibility.
Yankee Dawg You Die by Philip Kan Gotanda
Meet Vincent Chang, successful veteran of Hollywood B-movies, and Bradley Yamashita, an aggressive and naive young actor. Together they discuss, debate, and dream about life in "the business" – professional successes, personal failures, artistic compromises, and constant struggles to overcome old stereotypes and prejudices. Yankiee Dawg You Die is a humorous and poignant commentary on the Asian-American experience by one of this country's best young playwrights.
God's Country by Steven Dietz
A starling portrait of the Reverend Jim Jones as he exhorts hundreds of down-and-out followers to commit mass suicide in Guyana in 1978. Witness the fascinating and disturbing journey of the People's Temple in which 913 people, mostly African-American, allow a single individual to lead them to the jungles of South America to commit the most horrible act of faith imaginable. WHITE NIGHT explores one man's demonic obsession with power as he preys upon America's needy and unwanted, shocking the entire world.
1993/1994 Season
The White Death by Daniel Therriault
Imagine a sleazy bar overlooking the crater of an active volcano in Hawaii. This is the exotic and surreal battleground for The White Death in which a curious clash of cultures takes place between a Filipino immigrant bartender, a native Hawaiian prostitute, a Mainland American tourist, an undercover evangelist and a Japanese mafioso. The White Death is a fascinating black comedy about the collision of myths and struggle for identity on a tropical island where nature always gets the last laugh.
Axis Sally by Thomas Gibbons, directed by Seth Rozin
The dramatic portrait of Mildred Gillars, an American woman who follows her heart and loses her soul broadcasting Nazi propaganda during World War II. Based on a true story, Axis Sally explores the complex character of a "traitor," who discovers that her identity as an American is intertwined with her own capacity for self-deception. Gibbons's dynamic new play explores the issue of complicit and the conflict between personal desire and public responsibility, asking the question, "What does it mean to be an American?"
1992/1993 Season
6221 – Prophecy & Tragedy by Thomas Gibbons, directed by Seth Rozin
A dynamic and theatrical dramatization about the MOVE tragedy of 1985. 6221 – Prophecy & Tragedy is an exploration of the violent and misunderstood tragedy of the MOVE organization and and its volatile and complex battle with its West Philadelphia neighbors as well as city officials.
Morocco
by Alan Havis
directed by Seth Rozin
The Bacchae of Euripedes
by Wole Soyinka
directed by Seth Rozin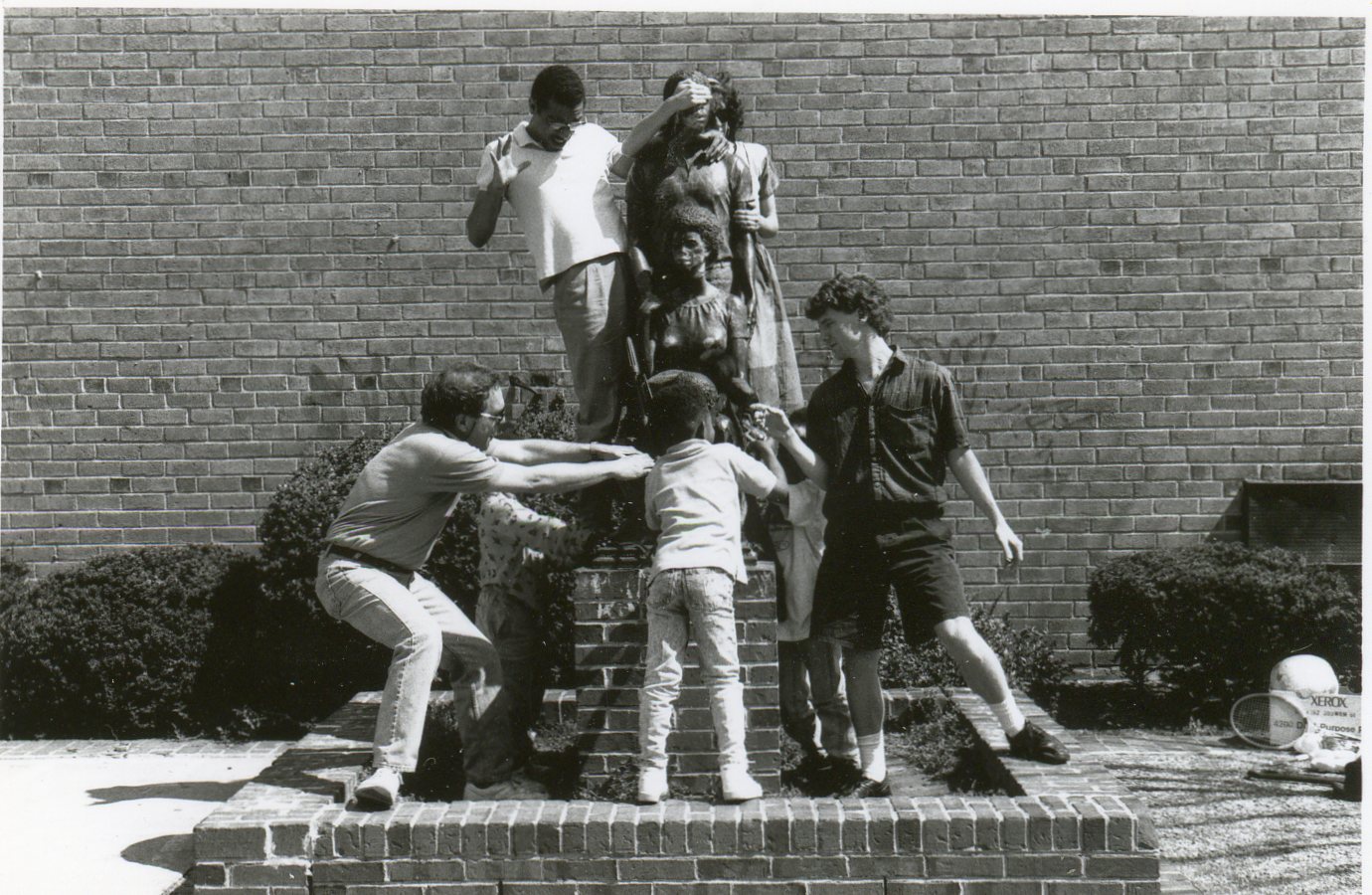 Statues
by Michael Hollinger
directed by Seth Rozin
Pretending to America
by Thomas Gibbons
directed by Seth Rozin
A Photograph
y Ntozake Shange
directed by Seth Rozin
Mud
by Maria Irene Fornes
directed by Seth Rozin
Coyote Ugly
by Lynn Siefert
directed by David Bussak
The Elephant Man
by Bernard Pomerance
directed by Brad Rosenstein
1988/1989 Season
Seascape by Edward Albee
Albee's most inventive play reveals a remarkable encounter between man and beast. An intelligent, witty deeply human look at the unstoppable momentum of evolution, and the ways we insinuate ourselves from others who are "different".
The Emperor Jones by Eugene O'Neill
Sexual Perversity in Chicago by David Mamet
This Property is Condemned by Tennessee Williams
Seduced by Sam Shepard