InterAct Seasons 2000 - 2010
2009/2010 Season
The Elaborate Entrance of Chad Deity by Kristoffer Diaz, directed by Seth Rozin
Set in the larger-than-life world of professional wrestling, and fueling by vibrant hip-hop language, Chad Deity pits long-time reigning T.H.E. Wrestling champion, Chad Deity, against Vigneshwar Paduar, a trash-talking, India-born athlete recruited from the b-ball courts of Brooklyn. Casting the young upstart as an anti-hero extremist from "over there" who intends to catapult himself to fame by overthrowing the "all-American" Chad Deity, T.H.E. Wrestling's CEO plots to play upon wrestling fans' fear of terrorism and globalization in order to mass market an epic battle of Good vs. Evil.
City of Numbers by Sean Christopher Lewis, directed by Matt Slaybaugh
City of Numbers is a collaboration between InterAct and the Mural Arts Program as part of an outreach effort in which Sean Christopher Lewis interviewed lifetime inmates at Graterford Prison about their work as mural artists. A dynamic, one-man tour de force performance that interweaves the stories of over two dozen of Philadelphians, all struggling to come to terms with their city's escalating violence. A docu-drama written with tremendous honesty, humor, and humanity, City of Numbers is a meticulously drawn portrait of a city gripped by crime and a unique look at the transformative power of art
When We Go Upon The Sea by Lee Blessing, directed by Paul Meshejian
Commissioned by InterAct through its 20/20 New Play Commission program, When We Go Upon The Sea is a provocative new play by Tony Award and Pulitzer Prize-nominated playwright Lee Blessing. Set in a high-end hotel room at The Hague, Upon The Sea imagines former President George W. Bush on the eve of his trail for international war crimes. Tended to by an inscrutable Dutch butler and an alluring masseuse, the President embarks on a long night of drinking, joking, and ruminating, taking the audience through a deep exploration of how we regard our leaders. Examining an American populace that has grown strikingly complacent in the wake of extraordinary global challenges, Upon The Sea exposes one of the world's most intriguing conflicts: the battle between the elected leader of the free world and a democracy of millions.
Black Pearl Sings! by Frank Higgins, directed by Seth Rozin
Frank Higgins's play with music follows the journey of two extraordinary women, each of whom is dependent on the other to gain acceptance into society. In 1935 Texas, Susannah, a Caucasian academic and song collector for the Library of Congress, visits a high-security prison where she meets Pearl, an African-American woman imprisoned for murder. Hoping to record the treasure trove of spirituals and African folk songs that only Pearl knows, Susannah bargains for Pearl's parole and arranges for several public performances. The two soon find themselves walking delicate line between exposure and exploitation. Featuring beautiful a cappella renditions of little-know American folk songs, Black Pearl Sings! chronicles a powerful story about being a woman in a man's world, being Black in a White world, and fighting for one's soul in a world where anyone can be a commodity.
2008/2009 Season
The War Party by Vincent Delaney, directed by Rebecca Wright
It's 3AM on election night. Laura Smith, the prohibitive Republican favorite, has lost her senate race by a landslide. Suddenly without friends, and getting drunker by the second, Laura is thinking of cashing it all in. That is, until one of her loyal and spunky interns rescues her from the brink and wrestles her, quite literally, back to political life. A modern political parable about the limitations of the two-party system and a timely and provocative satire featuring food fights, women kissing and the undeniably rousing spirit of FDR.
The Rant by Andrew Case, directed by Seth Rozin
When an African-American teenager is fatally shot on his front porch in a crime-ridden neighborhood of New York City, the boy's mother accuses the police of murdering her son. A police misconduct investigator of Persian ancestry begins to find contradictions in the stories presented by both the mother and various eyewitnesses, including an African-American policeman on the scene. As accusations of racism and sexism poison the investigation, the audience is led down a Rashomon-like journey in which the truth appears less and less accessible, and the world hurries to form opinions based on assumptions.
Jihad Jones & the Kalashnikov Babes by Yussef El Guindi, directed by Seth Rozin
Ashraf, an actor, has just received rave reviews for his performance of Hamlet at a struggling theatre in Los Angeles. But he's only earning $200 a week and he's having trouble paying bills. He needs his big break. A starring role in a Hollywood blockbuster. And that's just what his smarmy agent is offering. All Ashraf has to do is play the most stereotypically evil, fanatical Islamic terrorist ever to grace the silver screen. Jihad Jones follows Ashraf as he battles the infamous slippery slope, while hilariously balancing his personal ethics and cultural pride against his professional ambition.
Little Lamb by Michael Whistler, directed by Seth Rozin
Then first play to come out of InterAct's new 20/20 New Play Commission program, Little Lamb tells the story of Denny and Jose, a gay couple who decide to adopt. Their adoption agent, Cathy, finds Denny and Jose an African-American baby girl from Texas and the happy family begins its new life together. But when Cathy receives an unexpected visit from the birth mother, who has strong opinions about the placement of her daughter, Denny and Jose must face the unthinkable, and Cathy is forced to choose between her progressive values, her African-American heritage, and her devout Christian beliefs.
2007/2008 Season
Last of the Boys by Steven Dietz, directed by Paul Meshejian
Pulitzer Prize-nominee by Steven Dietz, author of previous InterAct productions Lonely Planted and God's Country. In Last of the Boys, Ben and Jeeter's boys-will-be-boys' bond has stood the test of time since they served together in Vietnam, but when Jeeter's young and unpredictable new girlfriend arrives on the scene with her opinionated mother in tow, the past may finally be catching up with them. Last of the Boys is a fierce, funny and mesmerizing character study that speaks to America's situation in Iraq by revealing the lessons still to be learned from Vietnam.
Black Gold written and directed by Seth Rozin
A hilarious, fast-paced, vaudevillian take on what happens when Curtis Walker, a man living in Detroit's inner-city, tries to find a sure-fire way to earn the cash he needs to send his only son to college. His answer? He purchases an oil rig on eBay, drills in his back yard, taps into one of America's largest oil reserves, and turns world politics on its head. Six actors play over 100 roles in this funny, futuristic satire of race, class, and greed in a country so dependent on foreign oil that we'll go to any lengths to keep the cheap crude flowing.
Frozen by Bryony Lavery, directed by Whit MacLaughlin
One of the biggest hits from Broadway and London's West End, Frozen is the gripping and poetic journey of a mother whose daughter has been missing for 20 years, the man convicted of her murder and the psychologist attempting to understand his criminal motivations. As each character searches for a thaw in their frozen emotional lives, they strike a dark and hypnotic course that eventually leads them toward a common humanity. Nominated for 4 Tony Awards, including Best Play, Frozen is a play of stunning emotion and sensitivity that explores the limits off human regret and the power of forgiveness.
House, Divided by Larry Loebell Directed by Seth Rozin
The Goldstein family of Philadelphia is torn apart when older brother, Louis, decides to embrace Jewish orthodoxy and move to Israel to join the Israeli army while younger brother, Douglas, builds his life around peace activism. A challenging and timely examination of family, faith, and politics, and how the desire to distance ourselves from our past may only bring it closer home in the future.
2006/2007 Season
The Kiss of the Spider Woman by Manuel Puig Directed by Seth Rozin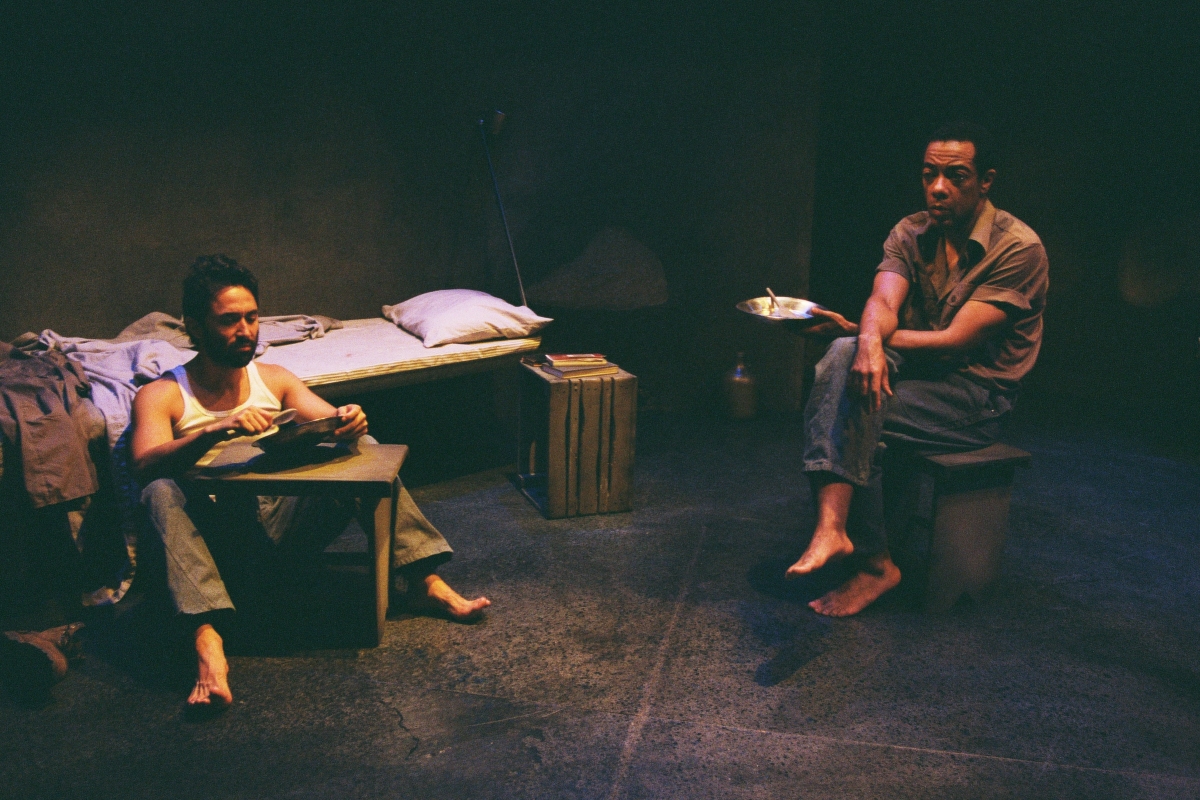 More powerful than the acclaimed film or hit musical, the original stage play of Kiss of the Spider Woman remains a searing drama about two Argentinean men (a socialist rebel and a gay window dresser) imprisoned by an oppressive government for their beliefs and their lifestyle. Intimate, intense, tender and startling, Kiss of the Spider Woman reveals an unlikely love story in the most inhuman of circumstances.
A House With No Walls by Thomas Gibbons, directed by Seth Rozin
A House With No Walls presents a conflict between two African-Americans: a rising star in academia who has just published a startlingly conservative book, and an ultra-liberal, Afro-centric political activist. This dramatic controversy – inspired by real-life events in Philadelphia – serves as a springboard for a volatile debate over whether African-Americans should embrace the legacy of slavery as their primitive identity or discard the mantle of "victimhood." A House With No Walls juxtaposes the fictionalized present day conflict with the true story of one of George Washington's slaves as she contemplates escape.
When Something Wonderful Ends by Sherry Kramer, directed by Tom Moore
This poignant, funny, edgy, theatrical and politically-astute one-woman tour-de-force weaves three seemingly unrelated threads – the death of the playwright's Midwestern Jewish mother, the Barbie Doll craze of the early 1960s, and America's complex and insidious oil-drive economy – into one astounding whole. When Something Wonderful Ends artfully spins a yarn that reveals the full extent of our consumerism and oil addiction, while harkening back to a time of seeming innocence, when anything seemed possible; a time when Barbie represented a bright new future.
Skin In Flames by Guillem Clua, translated by DJ Sanders, directed by Seth Rozin
Intriguing mystery and graphic sexuality mark this dramatic thriller in which a famous photojournalist returns to the country where his career was launched during a brutal civil war. One photograph – of a schoolgirl flying through the air after a bomb explosion – has since become a world-renowned icon of war, violence and innocence. Twenty years later, the photographer returns to the now infant democracy to receive a prestigious peace award, but first he is interviewed by an ambitious young woman whose story seems eerily familiar. Filled with gut-wrenching twists, Skin in Flames explores the thin ethical line between reporting on and influencing events in history.
2005/2006 Season
The Feast of the Flying Cow... by Jeni Mahoney, directed by Seth Rozin
Meet Anya and Izak, a couple struggling to survive in a war-ravaged country. Their aunt lies dead in the next room, and they have let their beloved dog run away out of fear their neighbors will eat him. Enter Audrey, an American socialite-turned-relief worker, who cheerfully announces the couple has been randomly selected to receive world-wide publicity as their country's poster children …whether they want it or not! Lampooning America's worldwide relief efforts, Feast humanizes our instinct to "do good" and ultimately reveals the true value of altruism.
American Sublime by Patricia Lynch, directed by Seth Rozin
Intriguing and unsettling, American Sublime examines the insidious ways political ideas take hold of ordinary Americans, what recourse we have in voicing our hurt and anger, and what surprising thoughts may lurk beneath the surface of our apparently "Norman Rockwell" neighbors. Todd and Constance have been searching for solace ever since they lost their only son in the attacks of September 11, 2001. After years being stuck in a tragic inertia, they feel, at last, something must be done. So, they've come to a big city arts museum to find a "messenger" to help deliver their response to the world.
Reinventing Eden by Seth Rozin, directed by Harriet Power
A hard-hitting new drama which follows an eminent scientist who must answer to both his family and the government for allegedly conducting unauthorized genetic experiments on his own son. As advancements in biotechnology race ahead of our legal and ethical understanding, Reinventing Eden balances the innate human desire to give our children a better future against the arrogance of creating the perfect baby.
Since Africa by Mia McCullough, directed by Seth Rozin
Once an African warrior, Ater Dahl is now one of the Lost Boys of Sudan battling for a new life in urban Chicago. Clashing over how to best help the torn refugee are Diane, a recently widowed socialite, and Reggie, an African-American clergyman. Each character's unique perspective is pitted against the others to reveal how fundamentally different, yet unexpectedly similar, we all can be. In the end, Since Africa shows how four extraordinary people grapple with loss, identity, and the challenges of creating a new home.
2004/2005 Season
Homeland Security by Stuart Flack, directed by Seth Rozin
Susan and her boyfriend Raj have been singled out of a line at an airport and profiled by the FBI. Fueled by moral outrage and righteous indignation, Susan is certain their civil rights have been violated, while Raj is strangely indifferent. As the couple process their experience, secrets and contradictions are revealed that suggest there might just be some basis for the profiling. In the age of global terrorism, Flack's subtle and absorbing play examines the effects of heightened concern with security in the lives of everyday Americans.
Whores by Lee Blessing, directed by Seth Rozin
From the award-winning author of A Walk in the Woods and Going to St. Ives comes this scathingly funny and provocative new play. Delve into the twisted mind of Raoul Raoul de Raoul, a retired Central American army general on trial in Florida for authorizing the murder of four nuns. In Raoul's mind, everyone's a prostitute, and Whores uses wicked humor and theatricality to expose the horrifying perversity of mass media, the legal system, military corruption, and U.S. foreign policy.
The Beauty Inside by Catherine Filloux, directed by Kay Matschullat
Brutal and poetic, this searching drama follows a promising young attorney who passes up a lucrative offer at big American law firm to defend the survivor of an attempted honor killing in her native Turkey. Challenging barbaric traditions and a corrupt legal system, she embarks on a life-changing journey of social activism and self-discovery, while developing an extraordinary bond of sisterhood with her visionary client.
Blue/Orange by Joe Penhall, directed by Seth Rozin
"A ferocious comedy [with] high-powered verbal brutality" says The New York Times about this surprise London hit. Two British psychiatrists battle over the diagnosis of an elusive and electrifying patient who claims to be the son of an infamous African dictator. With their jobs on the line, doctors hurl accusations of racism and careerism, revealing their complicity in the deterioration of the mental health establishment. Blue/Orange exposes the astounding arrogance of the "white" power structure in determining the future of less fortunate minorities.
2003/2004 Season
Permanent Collection by Thomas Gibbons, directed by Seth Rozin
In the tradition of bee-luther-hatchee, Black Russian and 6221, Permanent Collection continues Gibbons's exploration of racial politics in America. A work of fiction inspired by controversies surrounding the storied Barnes Foundation, Permanent Collection brings to life the conflict between the newly appointed African-American director and the museum's exclusionary charter. Fueled by an overzealous newspaper reporter, the two men face off across the great racial divide, struggling over the space — literal and metaphorical — made available to African Americans by the white-dominated culture.
In the Heart of America by Naomi Wallace, directed by Seth Rozin
A highly theatrical exploration of souls in turmoil. Set in the Kuwaiti desert, two American soldiers – one white and one Palestinian – fall in love. Each man wrestles with his own passions and demons as the play shifts fluidly between the past and present, reality and spirit world. At the intersection of sensuality and brutality, In the Heart of America exposes our national love affair with violence from Vietnam to the Persian Gulf. InterAct is proud to be the first company in Philadelphia to present this work by celebrated playwright Naomi Wallace, whose play reminds us that wounded souls never rest.
God of Desire by Dick Goldberg, directed by Seth Rozin
Emboldened by his deceased father's passion for music, his grandfather's love of Jewish tradition, his mother's intellectual prowess, his rabbi's mentorship, and his girlfriends' intense love and encouragement, the brilliant and sensitive Edward immerses himself in a mission to contribute to the world. Tormented by an insatiable sexual appetite that threatens to derail his holy pursuits, he finds himself increasingly conflicted on his journey towards oneness with God. With passion, humor, and humanity, God of Desire explores a new matrix between seeking to do good, the search for new ideas, spirituality, and sexuality.
2002/2003 Season
Going to St. Ives by Lee Blessing, directed by Seth Rozin
From the award-winning author of A Walk in the Woods! In this compelling new drama, the moth of a Central African dictator travels to England seeking surgery for her failing eyes by an eminent ophthalmologtist. But her real motive triggers a profound moral dilemma and a bloody chain reaction with peronsal political reveberations. Going to St. Ives presents two impressive women whose political and cultural differences define and divide them as they attempt to accomplish the greatest good.
Cry Havoc by Tom Coash, directed by Seth Rozin
In present-day Cairo, a naive British writer and an Egyptian university covertly live as lovers. Surrounded by poverty, religious morally-centered, yet disenfranchised men pursue divergent paths toward escape and extremism. Playwright Tom Coash's shocking and timely story inventively contrasts the perils of forbidden love in an intolerant culture with the absurdity of government bureaucracy. Cry Havoc paints an alternately searing and humorous portrait of love and survival in the volatile Middle-East.
Rosemary by Jim O'Connor, directed by Roger Danforth
The eldest daughter of the legendary Kennedy family is slowed, clumsier, and more erratic than her all-American siblings. As the black sheep of the country's most powerful dynasty, Rosemary becomes a potential public embarrassment at a time when image and ambition dictate all decisions. To what lengths will patriarch Joseph Kennedy go to persevere the family's political influence? Winner of the 2002 Jefferson Award for best new work in its Chicago premiere, Rosemary takes a penetrating look at the first – and lesser known – Kennedy tragedy.
2001/2002 Season
God's Man in Texas by David Rambo, directed by Seth Rozin
A funny and touching drama depicting the rivalry between a retiring pastor of the country's biggest evangelical Baptist church and his charismatic young successor. Playwright David Rambo skillfully examines the power of faith and the politics of organized religion. God's Man in Texas was a huge hit at the Actors Theatre of Louisville 1999 Humana Festival for New Plays.
Jambulu by Mary Fengar Gail, directed by Bob Hedley
Another fantastical work of theatrical invention by the author of InterAct's critically-acclaimed world premiere production of Drink Me, Jambulu takes us to the Mojave Desert and into the Research Institute for the Discovery of Extraterrestrial Life Forms. When a group of misfit scientists finally comes into contact with an alien life form, all are changed in unimaginable ways…most conspicuously turning a shocking shade of green! Is this the beginning of a new race, or the end of humanity as we know it?
Missing Link by Seth Rozin, directed by Harriet Power
When Nathan and Gloria Berman lose their only child in a sudden tragedy, they are catapulted into conflicting crises of faith. Written with humor and humanity by InterAct's Producing Artistic Director Seth Rozin. MISSING LINK asks the question, "What do you believe in when the inexplicable and unthinkable happens to you?" MISSING LINK in an ultimately hopeful play about grief, faith and evolution, and features Dave Jadico, Drucie McDaniel, Harry Philibosian, Seth Reichgott, Catharine K. Slusar and Maureen Torsney-Weir.
2000/2001 Season
Nixon's Nixon by Russell Lees, directed by Seth Rozin
On the eve of Richard Nixon's resignation, Henry Kissinger visits the President. The two most influential men in American engage in scandalous brainstorming and theatrical role-playing as they try to hold onto their empire and assess their places in history. Nixon's Nixon is directed in InterAct's producing Artistic Director Seth Rozin and stars Tim Moyer as Richard Nixon and Harry Philibosian as Henry Kissinger.
Man Measures Man by David Robson, directed by Tim Moyer
In the waning days of the Kosovo conflict, two Jewish-American doctors travel to Macedonia to offer their services to Albanian refugees. Into the chaos of the medical camp, a mysterious boy arrives, forcing the doctors to re-examine their actions and the personal ethics that guide them. A powerful and engaging play that measures the naivete of altruism against realities of war.
It's All True by Jason Sherman, directed by Seth Rozin
Broadway "wunderkind" Orson Welles and John Houseman ignore growing labor tensions and challenge government censorship as the rally to stage Marc Blitzstein's controversial musical "The Cradle Will Rock." IT'S ALL TRUE is a fast-paced, sharply written, passionate comedy about the magic of theatre and the commitment to something greater than yourself.